Virtual Instrument Pilot
(Patent No.: US 6,405,107)
Flying just got easier, safer, and less expensive.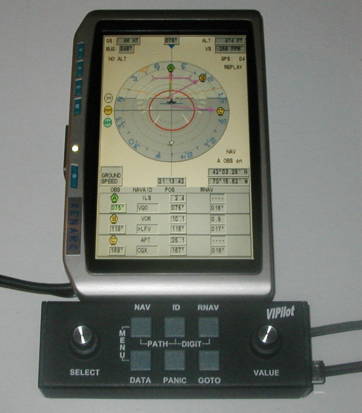 Bright, clear display showing flight and navigation instruments to supplement a multitude of devices.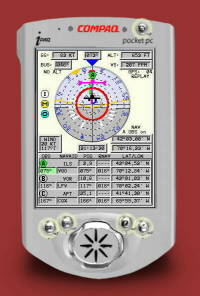 Or if you prefer, at
a smaller package,
1/10th the weight,
but a smaller picture:
Then check out the VIP-Lite
Summary:
The VIPilot duplicates the functions of almost every instrument in a general aviation aircraft.
It does so without depending on any of the aircraft's sensors. Simply plug into a 12 volt source, place a WAAS sensor under the windshield and you have attitude, heading, altitude, ground speed, vertical speed, wind speed, time, and up to three simultaneous navaids from a list of over 40,000 VORs, ILSs, NDBs, Fixes, Airports, and Runways.
You can define any number of RNAVs relative to these navaids or by latitude and longitude. And the multiple HSI display gives you a real sense of the relative positions of these navaids. In addition to the published ILSs, the VIPilot provides standard profile ILS including glide slope, compass locator, marker beacons and a VOR at the final approach fix for every runway.
Take off from a dirt field and the system "learns" your runway and incorporates it. Push the same button when you are flying and it "learns" a runway at altitude so that you can practice ILS approaches without clogging up busy airports.
The VIPilot will lead you through standard approaches, standard holding patterns, or standard search and rescue patterns. It will take you cross-country by any route you choose. There is even a PANIC button to lead you to straight and level at least 2000 feet above the nearest airport using the unique "AIM" figure.
Features:
All Navigation and Attitude instruments on a single display derived from WAAS
Selective Moving Map (New - See Addendum to User's Manual under Updates)
Portable instrument (Production Model) with the renter pilot in mind
Plug into cigarette lighter

Plug into wall outlet at home to update navaids or plan a trip
Attitude Indicator shows graphically:
Bank of aircraft and rate of turn

Inclination of both aircraft and flight path

Either ground speed or air speed with wind vector

Direction indicator as compass rose (with manual "bug")
Attitude Indicator shows numerically:
Heading, Altitude, Rate of Climb, Latitude, Longitude, Time, Wind Speed
Navaids (3) superimposed as combined VOR - ADF - ToFrom indicator
Needle(s) shows in direction of navaid superimposed on direction compass rose

ILS glide slope shown as horizontal line

Marker beacon lights and sound provided
Navaid alpha-numeric readout provide range and bearing updated each second
VOR, ADF, ILS, FIX, AIRPORT, DME, RNAV, MARKER all derived from WAAS
No fading behind mountains or at a distance

No dependence on calibration
AIM figure leads pilot with simple 3 Axis instructions
Throughout planned flight

Through standard VFR or IFR approaches

Through standard search and rescue patterns

To land at nearest airport

Out of disorientation to straight and level flight 2,000 feet above nearest airport
Data and Software Updates:
Select to see Data Updates
Pricing:
Select to see Current Pricing.
Size and Weight:
VIP comes with handy Tote Bag - 8 1/2" x 8" x 5" - makes 6.4 lb. flying package

VIP - Display is 4 3/4" x 7 3/4" x 1 1/2" - 18 oz. plus cable

VIP - Control panel 6" x 2" x 1 1/4" - 5 1/2 oz. plus cable

VIP-Lite - Display 6" x 4" x 1" and Control panel 6" x 2" x 1 1/4" - under 1 lb. total
Advantages:
Equivalent functionality would cost more than $20,000 in non-WAAS equipment

56 Day navaid updates will be available free on the web (suggest $5 donation)
CAUTION: Not TSOed - for supplementary use only. See our Disclaimer.
If you are interested in knowing how this came about, click on The Story
Come visit us at booth #4159 at AirVenture in Oshkosh, WI, July 29-Aug 4, 2003


Link back to Derman Home Page


For more information, send e-mail to Gary Derman at Virtual Instrument Pilot or write to:
Derman Software 55 Harding Road, PO Box 1792 North Eastham, MA 02651-1792 Phone: 508-240-0984